Eradication of Japanese Knotweed in Buckinghamshire
Worried about Japanese Knotweed in Buckinghamshire or surrounding areas? The biggest cause of worry can be the lack of understanding about the invasive weed and the effects it has on its surrounding environment. Attempting to deal with the weed by cutting it down repeatedly, burning it, burying it or using common weed killers simply won't work as the plant can lie dormant beneath the ground, only to strike again when people least expect it.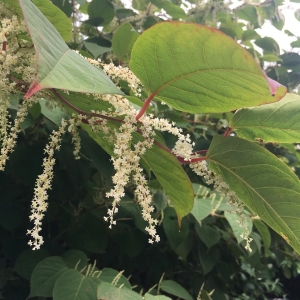 Despite the resilience of Japanese Knotweed, it can be destroyed!
Employing someone with the qualifications and knowledge will go a long way in terms of eradicating the invasive weed. With our professional help, you no longer have to worry about the effects the weed may have on the value and structure of your home. With our powerful translocating herbicides and extensive knowledge, we can tackle the weed from both the inside and out with direct application to stem and leaves. There are a number of different treatment options available, these include:
All of these methods are effective in the removal of Japanese Knotweed. The treatment chosen will depend on the site and if there is a timescale for removal. E.G. If the land was being built on and Japanese Knotweed was found, it may be that removal and excavation is chosen. This ensures the removal of Japanese Knotweed is quick and the building work on continue without much delay.
If you are looking to eradicate the pesky weed, Japanese Knotweed in Buckinghamshire or surrounding areas, or if you just need some advice in what to do next, get in touch now by calling our professional staff on 0800 1337 444. Japanese Knotweed Expert Limited is the company for you, we will be happy to help!