Getting Rid of Japanese Knotweed
Getting Rid of Japanese Knotweed
When getting rid of Japanese Knotweed, it is important that you arrange for an expert to complete this. There are strict guidelines that must be adhered to when getting rid of Japanese Knotweed, which ensure the safe removal of this invasive plant. The legislations and information are from Defra, the environmental agency, and professional bodies like the PCA.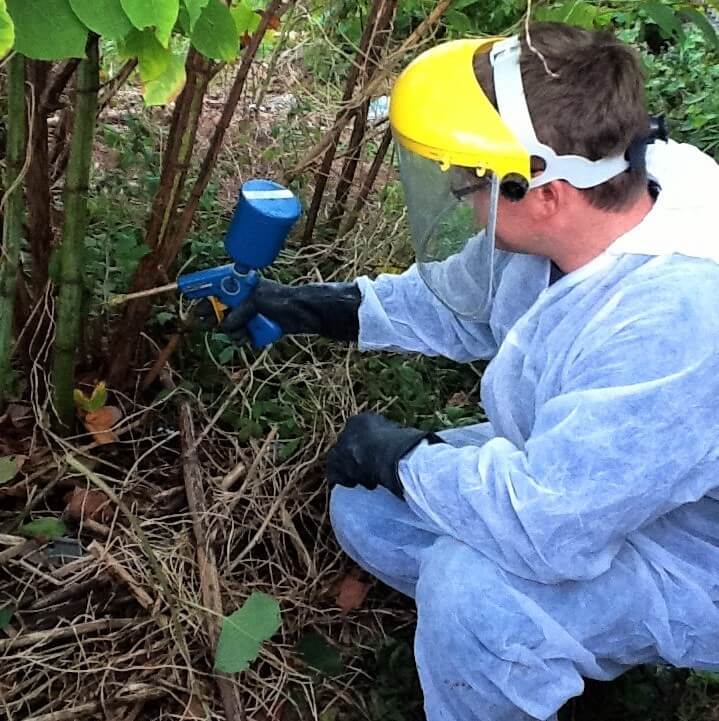 But how do you get rid of Japanese Knotweed? You may be asking that question! It is important that you call in a Japanese Knotweed Expert, as these will have the necessary qualifications to deal with the removal of Japanese Knotweed. They will also ensure that all the necessary PPE (personal protective equipment) is used, especially when using the strong translocating herbicides required treat Japanese Knotweed.
If the Japanese knotweed is excavated there are strict conditions on how to dispose of it. Disposing of it in your green waste bin is prohibited as this can further the spread of Japanese Knotweed. It is classed as 'controlled waste', therefore it must be disposed of at a licensed landfill site. If you are trying to carry out DIY removal of Japanese Knotweed it is important also to note that it is illegal to fly tip or dispose of the Japanese Knotweed irresponsibly.
Japanese Knotweed can be spread by the smallest piece of rhizome; a piece about the size of a fingernail can cause a new plant to grow.
As a result, this shows how important it is to employee a professional when getting rid of Japanese Knotweed!
As a company, Japanese Knotweed Expert, prides itself on being able to offer expert advice and a professional service when getting rid of Japanese Knotweed.
Contact us today! We will be happy to answer any questions or to arrange your site survey.