Getting Rid of Japanese Knotweed in Swadlincote
Getting Rid of Japanese knotweed in Swadlincote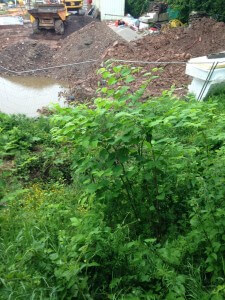 At this commercial property they required assistance getting rid of Japanese Knotweed in Swadlincote, as there was Japanese knotweed growing all down the West boundary. The client had read an article in the National paper and had identified the rouge plant from the pictures. When they phoned us up they were desperate to get rid of the Japanese knotweed as according to their five year plan they wanted to sell this premises and move into a bigger one. They knew that this would not be possible if the Japanese Knotweed was still there as it would dramatically depreciate the value of their property.
We came out and conducted a site survey and based on this site survey report, the management plan was produced. Their board of directors approved it and treatment was started just two weeks from their initial contact.
The three year plan was successful with us getting rid of the Japanese knotweed in Swadlincote, in year one and then carrying out inspections on the site for a further two years. We were able to issue a completion notice and a 10 year company guarantee and a 10 year insurance backed guarantee.
The client was obviously very pleased with the outcome and then proceeded to recommend us to several other businesses in the area. If you have a problem and require help getting rid of Japanese Knotweed in Swadlincote, please don't hesitate to get in contact. Remember our advice is always free and based on 20 years of expertise!
Please click here to view our testimonials, to see what other customer's say about us!