Japanese Knotweed Removal in Warwick
Commercial Management Plan – RICS Risk Category  3 – £5,411.25
This Japanese knotweed stand in Warwick covered an average of 9m² with an approximate height of 2m, we have estimated that the stand is around 5 years old and has not had any previous treatment. The stand is high risk due to its proximity to a water source, and poses a level of difficulty for treatment due to the stand being on a 45° slope.
Due to the location of the outbreak we feel that this growth has occurred due to the waterway carrying the invasive weed along the river.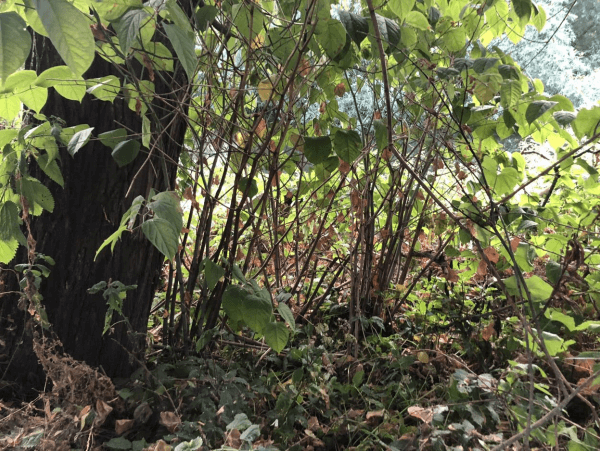 Do you require Japanese Knotweed removal in Warwick? Then look no further Japanese Knotweed Expert is the company for you! With over 18 years' experience, extensive knowledge and PCA accreditation, you can rest assured that any Japanese Knotweed outbreak will be treated effectively!
This invasive weed is rapid growing and can overtake your garden in no time. It can grow up to 1.2 metres per month during the growing session, causing damage to your property and possibly your neighbours. However, come the winter it dies back and can give the impression that it is gone but it will come back with vengeance again in the spring.
Can you treat Japanese Knotweed yourself? We would highly recommend that you DO NOT carry out DIY treatment of Japanese Knotweed! Why? New growth of Japanese Knotweed can be caused by the smallest piece of rhizome, about a fingernail size. It is also illegal to fly tip it and you a not allowed to dispose of it in your green waste bin. The disposal of Japanese Knotweed is very controlled to ensure further growth does not occur.
If you are in the process of selling or buying a property, mortgage lenders will require a certified company with the necessary qualifications and documentation to show that the Japanese Knotweed it being treated. Unless this is shown they may decline the mortgage.
We can provide you with a site survey and management plan, both of which are recognised by mortgage companies. The site survey outlines the location of the Japanese Knotweed, the risks to the site and any recommendations. Whereas the management plan details the best treatment method and the costs involved in the Japanese Knotweed removal.
Along with these documentations, many lenders will look for a 10-year insurance backed guarantee on any eradication work carried out on the Japanese Knotweed.
Contact us today for assistance with Japanese Knotweed removal in Warwick.