An Interview with Mia from The Property Buying Company
We sat down with Mia from The Property Buying Company to discuss Japanese Knotweed and the impact it has had on their business.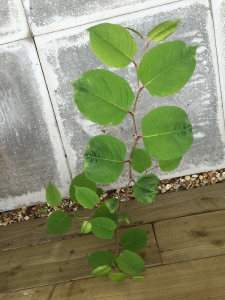 We asked Mia, what does your company do? She advised "We are property buying specialists, with many years' experience within the property industry. We buy any property, in any condition, nationwide. We don't offer the market value of the property, but we do offer a fair cash sum and all of the legals are included in this so the price we offer you is the price you will receive. We help to take the stress out of selling your property."
We then asked Mia if she has ever encountered Japanese Knotweed before, and what their experience was. "We have on quite a few occasions, as it has become quite an extensive problem in England recently. We encountered a small family, living in a terraced house, where the Japanese Knotweed had grown under the patio and was starting to uproot it as it made its way towards the actual property" We went on to ask how their clients felt on the delivery of the news. "Our clients were, understandably, really worried about the problem. They didn't really understand what it was or how to resolve the issue and they looked to us for advice as they really wanted to sell their property. It also concerned the neighbours who were attached to their property and it had started to spread onto their land."
Keen to learn more about their experiences with Japanese Knotweed, we asked Mia how they deal with the issue when it arises, she advised us "We've worked with Japanese Knotweed specialists, nationwide, for years so we understand how damaging it can be to a property and how stressful it can be for the people living there. We know that treatment plans for Japanese Knotweed must be in place, particularly if a property is to be sold. Many auction houses and mortgage lenders are loathed to have anything to do with properties that have the weed on-site. Luckily, we've got the resources to deal with the weed and are confident that we can sell your property on because we will get rid of the problem and enable customers to break free and move on."
With Japanese Knotweed becoming an ever-growing issue in the UK, we asked Mia if it had any impact on the way they do business. She said, "Luckily, we've been able to help a lot of customers living with Japanese Knotweed on their property. That's why we've educated ourselves about what is involved in the removal process and made some great contacts in the industry that we can call on when we encounter a customer wanting to sell their property, but fearful that they won't be able to. We can say, with confidence, that we will buy their property and sort out the problem, freeing them from having to deal with it themselves."
Lastly, we asked Mia what advice they offer to any of their clients who discovers Japanese Knotweed, to which she answered "Try not to worry. Japanese Knotweed can affect any property, in any part of the country and we have specialist knowledge and teams who can help you to sell your property, despite the problem."
If you have any concerns regarding Japanese Knotweed, please contact us.