Japanese Knotweed in Tower Hamlets – Eradication
Japanese Knotweed in Tower Hamlets – Eradication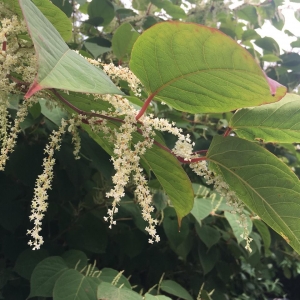 A "severe infection" of Japanese Knotweed in Tower Hamlets had been reported in August 2016. The housing association had advised its residents that they could cut the Japanese Knotweed and dispose of the cuttings in the waste bin. However, on the Tower Hamlets Council site, it is clearly displayed that they cannot take Japanese Knotweed. Not only is it a crime to distribute Japanese Knotweed, cutting the weed is not an effective method of treatment, as it does not kill the rhizomes and therefore the Japanese Knotweed is likely to grow back.
The most effective method of treatment is injection and spraying of a translocating herbicide. This means that whilst there is a direct application to the inside of the stem, there is also an external application, which ensures that the weed is efficiently treated. Although this method of treatment is time-consuming, it allows you to have peace of mind, as you can witness the Japanese Knotweed retreating and dying after each treatment.
If you have a problem with Japanese Knotweed in Tower Hamlets, please do not hesitate to be in touch on 0207 0431 344 for more advice and information! Alternatively you can message us via Facebook or by our online contact form.