Japanese Knotweed Removal in Hadfield
Japanese Knotweed Removal in Hadfield
If you are based in Hadfield and Japanese Knotweed has been identified on your property, our team of experts can help! Japanese Knotweed removal in Hadfield is highly sought after as Japanese Knotweed is spreading rapidly throughout the UK.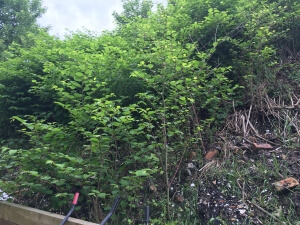 Originating from East Asia, Japanese Knotweed was brought to the UK by the Victorians who adored the plants aesthetics. However, it was soon found to be an extremely invasive weed that can cause damage to property foundations, grinding sales or development to a halt.
At Japanese Knotweed Expert we can provide a range of options for the eradication of Japanese Knotweed, including herbicide treatment and excavation and removal from site. The recommended method of treatment depends upon your specific requirements, so we always put together a bespoke treatment solution for each of our customers.
If you think you have Japanese Knotweed on your land in Hadfield, we will send our qualified surveyor out to conduct a full site survey. You will be provided with a detailed report regarding the location of the Japanese Knotweed, any damage caused by the plant and our recommendations for treatment.
We also provide a free Japanese Knotweed identification  service, which you can access through our online contact form. Simply send us a photograph of the suspected weed and we will get back to you confirming its identity.
If you require Japanese Knotweed removal in Hadfield, or if you have any questions about what to do next, get in touch with us on 0800 1377 444 – we are happy to help!