Identification of Japanese Knotweed in Glossop
Identification of Japanese Knotweed in Glossop
This property was being sold when a surveyor's correct identification of Japanese Knotweed in Glossop, postponed the sale.
The client was rather upset as they had recently lost her husband and had decided to downsize from their lovely family home. It was her daughter, Sarah who originally contacted us as she wanted to make sure we were a reputable company and that we would look after her Mother.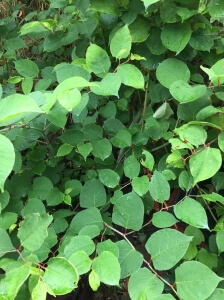 Following a nice chat with the Director (all calls divert to the Director out of hours to ensure continuous service for our clients), she was reassured we would be able to look after her Mum. Afterwards we found out she had already looked at the many testimonials and this reassured her that she was making the correct choice.
When we arrived to conduct the site survey the client directed us to the plant that the surveyor had identified as Japanese knotweed in this lovely garden in Glossop. Upon careful inspection it was identified as Kerria japonica. It was in January and the stems had died and they closely resembled the dead stems of Japanese knotweed. However they were not! Our client was very relieved to say the least and whilst she went off to make a cup of tea for me I checked the rest of the garden for Japanese knotweed.
There was no Japanese knotweed in this garden and within 24 hours we had written to her confirming this. We then dealt directly with the surveyor sending our report to him and the sale of the house went through 7 weeks later at the asking price. Therefore is shows the importance of the correct identification of Japanese Knotweed in Glossop by the experts!
We are always happy to have a chat so don't hesitate to contact us if you live in Glossop and have Japanese knotweed. Remember our advice is always free, based on 20 years of expertise with, £5m Professional indemnity insurance, so you can be assured when you phone us you are getting the professionals. Our expert treatment and identification of Japanese Knotweed in Glossop and throughout the UK, is what you require!