Killing off Japanese Knotweed in Alfreton
Killing off Japanese knotweed in Alfreton
A gentleman asked 'How do you go about killing off Japanese knotweed in Alfreton?' He had been told to cut it down and burn the stems with a flame thrower! Now although I thought this may be good fun it is certainly not the way to kill Japanese knotweed.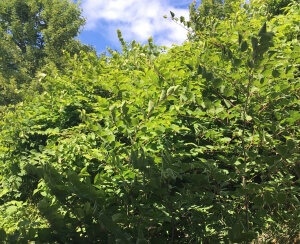 Japanese knotweed is a first colonizer of volcanoes, it is able to break up through the hardened magma and grow successfully in these rocky soils. So a little heat from a flame thrower will have no effect it at all and may even encourage more rampant growth.
The best way to go about killing off Japanese knotweed in Alfreton is through the use of herbicides, we use two different ones. One is not available to the public in any form and you have to have specific licences and qualifications to spray it. The other is 300x stronger than the version that is available to the general public.
Both herbicides are what they call translocating herbicides this means they are absorbed by the leaves and stems through the stomata and then travel throughout the plant inhibiting the natural internal process within the plant and thus killing the Japanese off from the root to the growing tip.
There have been a number of cases of Japanese knotweed in Alfreton, so if you are one and need some expert advice on killing off Japanese knotweed in Alfreton, then please get in touch! We will be happy to answer your questions or to arrange for a site survey and management plan.