Japanese Knotweed Removal in East Sussex
Japanese Knotweed Removal in East Sussex
Japanese knotweed has a large underground network of roots (rhizomes). So, your invasive weed problem, might be worse than it actually looks like. If you have are in need of Japanese knotweed removal in East Sussex, Japanese Knotweed Expert can help you. We have special treatment methods, depending on your case of Japanese Knotweed, making sure that we get rid of the entire plant, no matter how large or invasive it may be. For further details about various treatment options for Japanese Knotweed, please see out 'Treatment Services' page.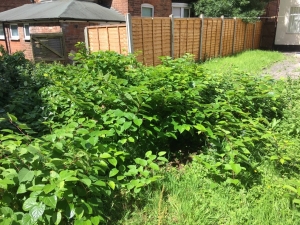 One option for Japanese Knotweed removal in East Sussex, is that we use a very strong Herbicide treatment, which can only be used by us professionals, as it is 300x stronger than what is available to the public. This will guarantee the successful removal of the Japanese Knotweed. We are very confident in our removal treatments and therefore offer a 10-year guarantee to ensure 100% success.
Our clients are very happy with the services we offer and are so pleased when we have removed Japanese Knotweed from there land. To see what our customers say about us, please view our testimonials.
If you would like more information on our treatment methods, or if you have a problem with Japanese Knotweed in East Sussex or surrounding areas, please contact us today, on 0800 1337 444 we will be very happy to help you.