Eradication of Japanese Knotweed in Cannock
Eradication of Japanese Knotweed in Cannock
As a Staffordshire based company we carry out eradication of Japanese Knotweed in Cannock. We are a Japanese Knotweed expert who have been treating Japanese Knotweed for over 18 years. Our main focus is ensuring that you as the customer get the best possible service and guaranteed eradication.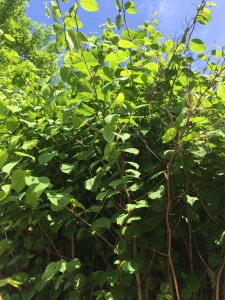 Your requirements, as the client, are at the forefront of everything we do. Finding you have Japanese Knotweed on your garden or site can be daunting, but we are here to ease those fears.
Accurate identification of Japanese Knotweed is important. We have found that around 20% of customers who come to us suspecting they have Japanese Knotweed find out it is something quite different, once we complete a site survey. If you think you have Japanese Knotweed why not send us a photo of the suspected plant for identification by experienced surveyor. This can be completed by using our online contact form.
However, what happens if it is Japanese Knotweed? You have no need to worry as we have been successfully carrying out eradication of Japanese Knotweed in Cannock for many years. We understand that every outbreak of Japanese Knotweed is different. As a result we work closely with yourself as the client to meet your requirements. We carry out a site survey to identify the location of the Japanese Knotweed, how long it has been on the site and if any treatment has already been carried out. This enables us then to complete the management plan. This outlines the best treatment option for each individual case of Japanese Knotweed, ensuring complete eradication of Japanese Knotweed.
Do you have Japanese Knotweed? Contact us today for advice or a site survey for eradication of Japanese Knotweed in Cannock. As a company we offer fantastic customer service, a reliable service and expert knowledge. Including the peace of mind knowing your Japanese Knotweed it being treated by the expert!